Island – Landscape Between Sky, Land, Sea
Linie – zwischen Himmel, Erde, Meer
---
2001
06' 00'', color, silent
concept, edit, graphic: GUP-py
---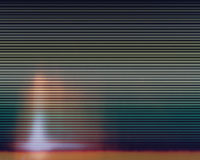 >
See more images
---
Sample Movie
> Play movie

---
About the Video
The dream island as a symbol for the ideal life.
Islands – small continents – are home away from home, in which we take time off from our daily conflicts.
Each of us likes to discover his or her own island – just as Columbus did.
A temporary paradise – a particular dream island – the private space.
---
Video Text

I start with a line.
A line divides a plane. I imagine the line as the horizon. The sky above and the sea below or the sky above and the land below. The land above and the sea below – that is also a possibility.

I make one line wider.
I fix my eyes on the line on which I find my place.

The line, a minimal space, which offers endless possibilities of inherent shapes. I zoom into the line and enter: into the space of the line, awaiting the forthcoming events – no, here I can decide for myself what will happen.

Sometimes I long for the sea, then I go visit it.
Is there something at the boundary between sky and sea?
Of course one cannot see it but perhaps there is an island? An island for me alone, my personal island, which I visit now and then, to peel off my everyday life.

The objects leave their shapes and begin to flow.

(translated by Alisa Kotmair)


---
Videotext

Mit einer Linie beginne ich.
Eine Linie teilt eine Fläche. Ich stelle mir vor, die Linie ist der Horizont. Oben der Himmel und unten das Meer oder oben der Himmel und unten die Erde. Oben die Erde und unten das Meer – auch das ist möglich.

Eine Linie mache ich breiter.
Mit meinen Augen fixiere ich die Linie, auf der ich meinen Platz finde.

Die Linie, ein minimaler Raum, der unendliche Möglichkeiten seiner Form anbietet. Ich zoome in die Linie hinein und trete so in den Raum der Linie, in Erwartung ob der kommenden Ereignisse. Nein, hier kann ich selbst bestimmen, was passieren wird.

Manchmal habe ich Sehnsucht nach dem Meer, dann besuche ich es.
Gibt es etwas an der Grenze zwischen Himmel und Meer?
Man kann es zwar nicht sehen, aber vielleicht gibt es dort eine Insel? Eine Insel für mich allein, meine persönliche Insel, die ich ab und zu besuche, um mich vom Alltag zu lösen.

Die Dinge verlassen ihre Form und beginnen zu fliessen.
---