Out of the Sky – Back into the Sky
Aus dem Himmel – in den Himmel
---
2010
09' 04'', color, stereo, language: Japanese
concept, edit, graphic: GUP-py
music: El Fulminador

---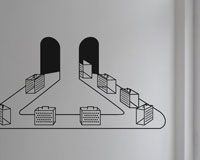 >
See more images
---
Sample Movie
> Play movie

---
Video Text

Chapter 1 (Arrival)

The dogs arrive from all corners of the earth. Travelling over mountains, lakes and fields.


Chapter 2

HERE is where the travel dogs gather from around the world!


Chapter 3

Haven't you heard? There is also a route to the airport from our flat. And from every other flat as well.


Chapter 4 (Departure)

It's over now and the canine carriers exit the airport. Such a meeting of muzzles was one of a kind.
Farewell, my friend! Every dog's life for himself.
Home again, the dog is unpacked. Wallet, notebook, towel, toothbrush, pen, umbrella, tablets, socks... The travel accessories return to their rightful places. Waiting for a new travel dog to be born again.
But sooner or later the travel dog awakens. Leading me on to my next journey. New landscapes and new friends await me there.



---
Videotext

Kapitel 1 (Ankunft)

Aus allen Himmelsrichtungen kommen die Hunde hier an. Über Berge, Seen und Felder reisen sie hierher.


Kapitel 2 (Treffen am Flughafen)

Die Reisehunde aller Länder treffen HIER ein!


Kapitel 3 (Weg zum Flughafen)

Hast Du's schon gehört? Auch aus unserer Wohnung gibt es einen Weg zum Flughafen. Und aus jeder anderen Wohnung auch.


Kapitel 4 (Abflug)

Nun ist die Zeit vorbei und die Hundetaschen verlassen den Flughafen. Es war eine einmalige Versammlung von Hundeschnauzen.
Mach's gut, mein Freund! Jeder Hund lebt sein eigenes Hundeleben.
An der Haustür wird der Hund wieder ausgepackt. Portemonnaie, Notizbuch, Handtuch, Zahnbürste, Stift, Regenschirm, Pillen, Socken … Die Artikel des Reisebedarfs haben wieder ihre Plätze gefunden. Bis zur Geburt eines neuen Reisehundes stehen sie vorübergehend still.
Doch früher oder später erwacht der Reisehund und führt mich erneut auf die Reise. Neue Landschaften und Bekanntschaften erwarten mich dort.


---